Transit cabin incl. 2 people, bed linen & breakfast Kr. 629,- per night
* The offer is valid from 24.06-07.08
The cabins are rented with a double bed with duvets and pillows.
The transit cabins do NOT have water, kitchen or refrigerator.
This type of holiday home is ideal for single accommodation and cyclists.
We can offer 6 transit cabins – See location of cabins (H15 – H20) on site map.
Own tent incl. 2 pers., pitch fee & breakfast DKK 310,- p. night
* The offer is valid from 24.06-07.08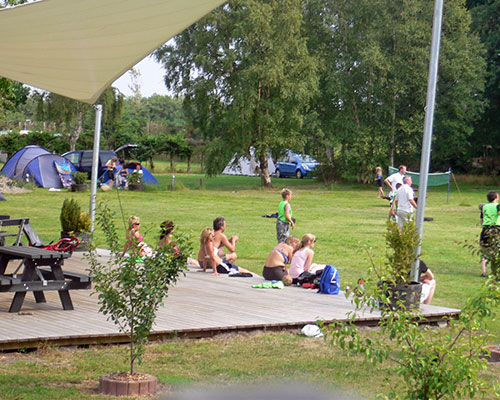 In the tent area you will find the large 100m2 sail-covered  terrace,
an "outdoor kitchen" with cold water, the campfire place
where you can cook by the fire(Reserve campfire equipment at the reception)
Kettle grill is also available, a large lawn for ball games
and the in-house "petting zoo".
The service building with family room, kitchen, laundry, ladies/gents department,
TV lounge / recreation room and a large patio area with gas BBQ are also close by.
* When booking  online, the discount will be deducted, –
if we send the confirmation afterwards.
It is not displayed for online orders.
Write "Offers" in the subject field