Real Danish camping atmosphere
Òne small oasis – òne big family!
We strive to make Asaa Camping & Cabin a cozy campsite, with a true Danish camping atmosphere. As a rule, it is I – Laila – or Frank who greet you upon arrival, and we are the ones who say goodbye to you upon departure. We meet you at events and activities, we also see you on the lawn mower or when the toilet buildings need to be cleaned.
You will find that we are very visible at the campsite and therefore do not sit in the Reception on quiet days. We therefore have limited opening hours, so call us or find us at the campsite if the door is closed. We want you and your family to feel welcome and have a positive experience of Asaa Camping and of us. The Jensen family looks forward to welcoming you to Asaa Camping & Cabin.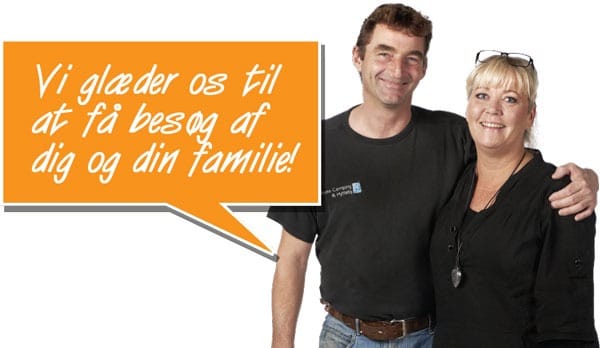 Cabin holidays at nice prices
… Located near the child-friendly beach, the attractions and experiences of the East coast of Denmark in the Northern Jutland. Camping Asaa has a large swimming pool with a children's pool, where children of all ages can have fun.
Camping Asaa near Aalborg between Saeby and Hals is ideal for those seeking peace and quiet in a green, spacious environment. Relax in our small, picturesque and idyllic oasis. There is room for everyone and we do our best to make all guests feel welcome.
Every week we bake Twisted bread "Asaa Special" over campfires. Campers meet here and many new friendships are formed, both among adults and children.